We rent the Momentum iNeed Street built by Giant Bicycles.
Our rates are $10 per hour. Once you've had the bike for 4 hours you have hit our daily rate of $40 per day and could keep the bike until the next business day.
We also do weekends (2 days) for $60 or weekly rental (7 days) for $150.
Helmets and locks can be provided with all rentals at no extra charge.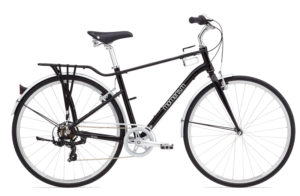 Due to past experiences with no-shows we don't take reservations unless a non-refundable deposit is paid upfront. Thanks!